No, Pokémon go isn't dead yet. Statistically speaking, you probably have installed the game last summer, played a few days, or even weeks, passed a few levels, and stopped. But because you are not playing anymore doesn't mean that the game is dead. In fact, it is very much alive and still evolving, as I will explain in a second, and the Pokémon GO community is very active too. By the way, you know that Gen 2 Pokémons are there, don't you?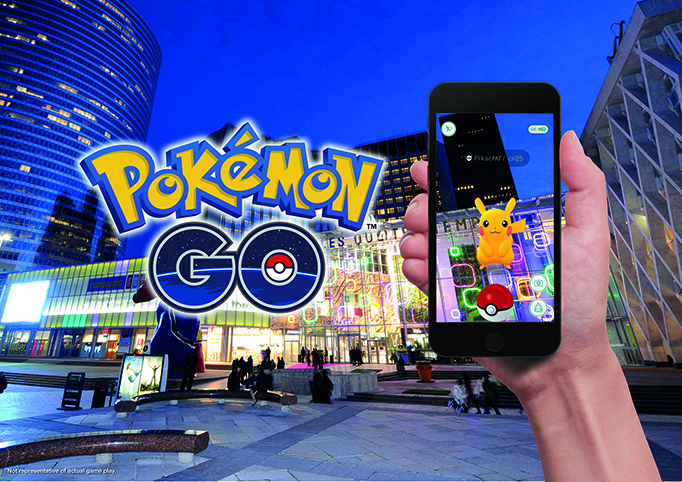 It is true there have been ups and downs in the game, and especially a few weeks/months out in the wilderness from before the Holiday event (around Christmas time) and now (release of generation 2 Pokémons). However, it is the only game of that kind out there, on a human and geographical scale*, so I feel it is normal to experiment a bit with the gameplay. Niantic (the game editor) cannot know for sure what will or won't work before releasing it and testing it at least in some limited areas.
* Niantic released Ingress a few years back, on a global scale just like Pokémon GO, but there weren't as many players. More Info here.
The main argument of the Pokémon GO "killers" is that the game has lost millions of players, so no one is playing anymore. Well, right and wrong! It is true that Pokémon Go has lost a lot of players in the past few months, but its retention rate is the same than any other mobile game. It is the usual install-engagement-retention problem. The game has lost a huge amount of players, but the number of installs was stratospheric too (100+ million installs worldwide in less than a month).
And yes, there are still Pokémon Go trainers playing these days, even before the release of Gen 2. They aren't as easy to spot as they were before, but they are still playing, especially during the events.
Game updates and events
Speaking of events and the evolution of the game, Niantic has worked a lot over the past few months to improve the game balance and the keep the interest and retention on a steady level by slightly changing the game mechanics. Even if Niantic is not known to communicate a lot with the players, their actions prove that they are listening to us, players, and looking at how we play.
Here are examples of game updates from the last few months:
Buddy Pokemon:

set a Pokémon as your buddy to walk with you, and he will get candies. That helps you get candies in a passive way, especially for rare Pokémons.

Halloween extra candies and extra Pokémons:

all the candies rewarding actions like hatching or catching a Pokémon and transferring it gave you double or more candies. This actually set a record of in-app purchase for incubators.

Thanksgiving

or the thank you event: double points and more Pokémons spawns. Well, thank you too, Niantic!

The first catch / first Pokéstop spin and 7-day streak bonus:

they are obviously tackling the retention issue and rewarding regular players. As their levels are increasing, it is taking more and more time to pass levels. That helps a lot, for sure.

The Japan Lapras event

, or how to get cross live-streaming from 3 Youtubers at the same time, haha! I'm not sure anyone could have predicted the proportions of this event (100000 players poured down the streets in Ichinomaki over a few days). The event was actually organised by Niantic in partnership with the Pokémon GO team in the local government to raise awareness (and money) to help rebuild the Tohoku region devastated by the earthquake and tsunami in 2011. It was really touching to see so many people involved.

Game balance update

to match the Pokémon battle capabilities in the original video game. Is that a TrainerTips effect? Long story short: Nick (aka TrainerTips) is a Youtuber who made calculations to find how the formula for battle capabilities needed to change in order to match the experience in the video game. And Niantic released that change on his birthday, coincidence? Niantic only knows ;)

Ditto hidden in common Pokémons:

a typical game balance update. Over time, players were catching less and less common Pokémons (Rattata, Spearow, Pidgey, …) so Niantic decided to hide Ditto, a Pokémon with a form changing capacity, in order to make players catch common Pokémons again. Nice move Niantic, I never caught that many Rattatas and Pidgeys!

New Nearby feature

: the experienced trainers will understand…

Second generation baby Pokémons and Holiday Pikachu:

another attempt to make us buy incubators (to hatch the second generation baby Pokémons) while hunting for the holiday Pikachus.

Holiday event:

gift boxes available in the store (big spike in in-app purchases, btw), free incubator at every day for your first Pokéstop spin, and increased chances to find baby Pokémons. And the release of the Apple Watch app just before Christmas. Later in January, there were increased spawn rates for starters (Bulbasaur, Charmander and Squirtle) and their evolutions.

Valentine event:

increased spawn rates for pink Pokémon (Chancey, Likitung, Jigglypuff, Slowpoke, Clefairy, …), the lure modules lasted for 6 hours, and your Buddy Pokémon catching candies twice as fast.

Release of Gen 2 Pokémons

, alongside many game mechanics changes, new battle moves, new evolution items, new berries, shiny Pokémons (male/female and other variants), and more…
See the full list of communications from Niantic here.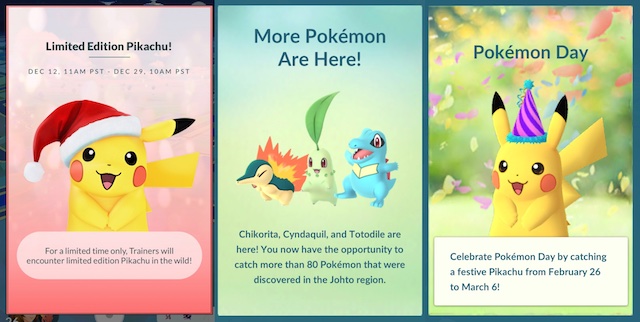 The Pokémon GO community
Now, let's have a quick look at the Pokémon GO community on the internet. Many resources covering the Pokémon GO phenomenon popped up everywhere on the internet since last summer. Some are serious, many are not. In the category of the serious resources, we can count the Silph Road and PokeAssisant to name a few. These are websites maintained by teams doing reverse engineering and data mining on the game at every release. They are very serious about following the game evolutions and understanding the game mechanics, so they became a trustworthy source of information for the players and Youtubers.
Speaking of which, many Youtubers started channels or included their Pokemon GO experience in their existing gaming YouTube channels. For example, Nick from TrainerTips is a very popular and trustworthy Youtuber (600000+ followers). He was involved in the game at a very early stage as he actually was a beta tester. Nick actually met with Reversal and BenTimm1 in Japan for the Lapras event. He was actually sponsored by his followers to go there and raised over $18k in a couple of days (see article here). He didn't expect that amount of money and donated more than $16k to local charities to support the Tohoku region. All the vlogs of the Japan event are available on YouTube if you are curious ;)
The Future of Pokémon GO
One thing is sure about Pokémon GO, people are coming back to the game. We don't have official figures yet, but since Gen2 release I've seen people playing in the streets or in the shopping centres, I've seen lured pokéstops and fierce gym battles.
The question is: how long will it last? Will Niantic be able to retain the players who came back to the game? Will PvP battling and trading be released soon enough? What about the legendary Pokémons? Will Niantic be able to find enough occasions to create events? Even if trainers are rewarded for playing every day (bonus points and Pokéstop items), will it be sufficient to retain people between two events?
John Hanke (Niantic's CEO) announced in an interview at Wired DE (google translate is your friend) that 3 major updates are scheduled for 2017, including: trading, PvP with an upgraded gym battle system and legendaries.
He also went to Barcelona earlier this month for the Mobile World Congress 2017 to receive Niantic's price in the "Best Overall Mobile App" category.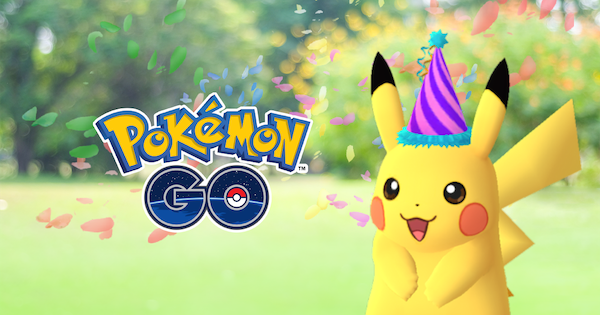 So, no, Pokémon GO isn't dead yet, sorry haters. And, rejoice hardcore Pokémon trainer, you are not alone, there are actually as many players of Pokémon Go as of Candy Crush Saga (source: AppInstitute). The game also won the Mobile Game of the Year and Family Game of the Year at The Game Awards at the end of last year (source: Niantic Labs).
As for me, I keep on playing for now because I find it fun, also I walk a lot and get rewarded in the game for that, and I keep an eye on the game mechanics because I learn a lot from it.
Happy playing, and don't forget to catch'em all!